Racquetball Court Construction
Residential and Commercial
Nationwide Shipping! Free Quotes!
We offer complete racquetball court construction services (design, materials, and installation) or purchase any combination of materials and install them yourself. Either way, you will benefit from Allied Products experience and expertise. We will be happy to be a part of the completion of your racquetball or squash court project.
Have a Question or Need a Quote? We Are Just a Call or Click Away!
Get answers to all of your athletic flooring questions.
What's Involved in the Racquetball Court Installation Process?
We take care of virtually all of your racquetball court needs from designing to installing.
Our complete racquetball court installation includes:
Light gauge steel framing for the walls and ceiling
High impact wall and ceiling panels
Solid core flush-mounted door system
Maple floor system with padded sleeper underlayment
Impact-resistant light fixtures
Wallyball kit
Goody Box
Optional glass door or glass walls
High Impact wall and ceiling panels are the most important component of the court system. Our 4′ x 8′ tongue and groove (T&G) wall and ceiling panels incorporate a particleboard core sandwiched between two layers of plastic laminate. These features result in a very dense, extremely tough surface designed to withstand the rigors of professional play and comply with USA Racquetball Association specifications. In fact, they are so tough they are actually used in other applications such as lining gymnasium walls and jail holding cells. Custom laminate colors are also available.
We use our Tru-Maple Cush for racquetball court construction. It consists of solid maple over padded sleeper underlayment.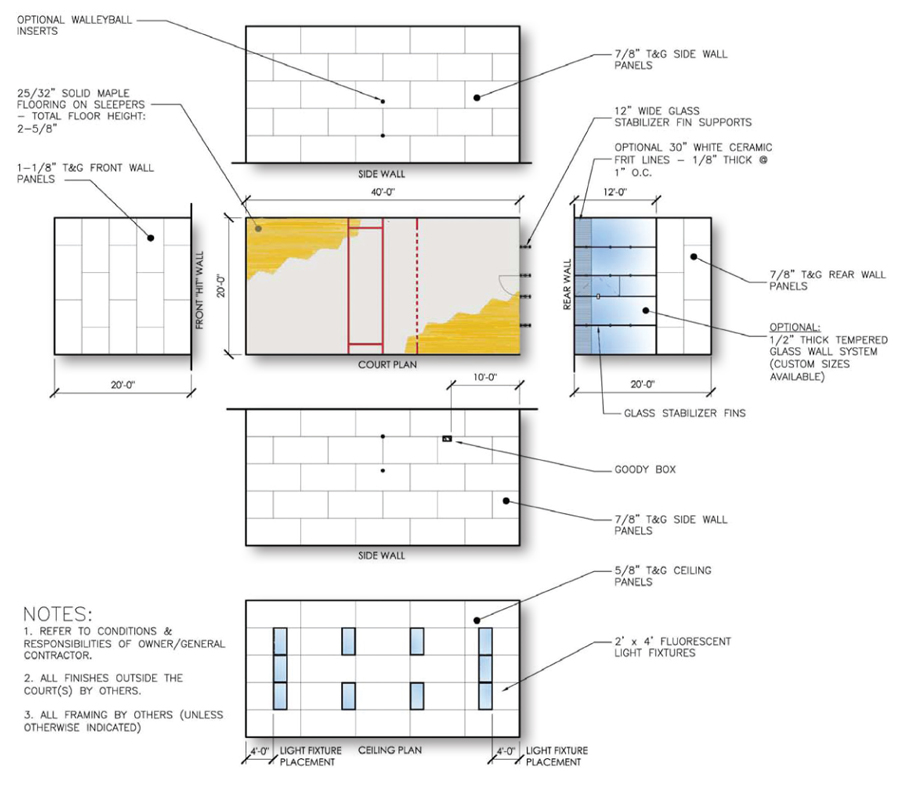 How Long Does the Racquetball Court Installation Take?
Your floor installation will take about 5 days from start to finish. When we leave, you play.
Do I Have to Purchase a Complete Racquetball Court System?
No, you can purchase whatever you need for your racquetball court whether its flooring, lighting, or moveable glass wall systems. We exist to be your source for racquetball court materials and flooring in any configuration that you may need and we ship and install materials anywhere in the United States.
Racquetball Court Maintenance
We use maple hardwood flooring for racquetball court construction so it should be properly maintained. Here's what you can do to increase the longevity of your racquetball court.
Maintain the temperature and humidity in the court at a consistent level in line with the specifications: i.e.: Temperature: 50-80 degrees F, Humidity: 40%-60%.
Sweep the floor using a regular soft bristle brush or untreated dust mop to remove dust and grit. Do not use any dust mop or cleaning rag that may have any type of cleaning residue.
Wipe up any spills immediately.
Do not use household cleaners as they could leave the floor sticky or slippery.
Have a Question or Need a Quote? We Are Just a Call or Click Away!
Get answers to all of your athletic flooring questions.
What Other Games Can I Use my Racquetball Court For?
There are a number of activities the court can be used forin addition to playing racquetball. Some of the most popular are:
Wallyball. This is a game that we include with almost every court. This is basically a variation of indoor volleyball.
Basketball. We offer a number of options for wall mounted (or "hide away") basketball hoops.
Pickleball. The standard court size for pickleball is 20' wide x 44' long. This is a game that is increasing in popularity and since a standard racquetball court is so close in size (20' x 40'), pickle ball is an exciting game to add.
Professional Racquetball Court Installation
Allied Products has solutions for just about any racquetball court or high impact wall requirement that you may have. Our racquetball materials comply with the most stringent sports governing authorities and are fully approved for professional tournament play. We have supplied and installed hundreds of courts in residential homes and commercial fitness centers nationwide. And we can provide any variation of athletic court flooring and accessories you may need. Delivery & installation services are available anywhere in the country.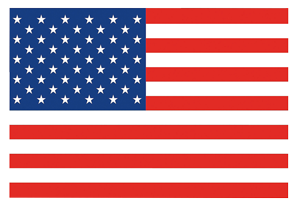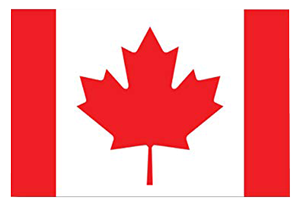 Shipping Nationwide across USA and Canada in these locations:
Alabama | Alaska | Arizona | Arkansas | California | Colorado | Connecticut | Delaware | Florida | Georgia | Hawaii | Idaho | Illinois | Indiana | Iowa | Kansas | Kentucky | Louisiana | Maine | Maryland | Massachusetts | Michigan | Minnesota | Mississippi | Missouri | Montana | Nebraska | Nevada | New Hampshire | New Jersey | New Mexico | New York | North Carolina | North Dakota | Ohio | Oklahoma | Oregon | Pennsylvania | Rhode Island | South Carolina | South Dakota | Tennessee | Texas | Utah | Vermont | Virginia | Washington | West Virginia | Wisconsin | Wyoming | Toronto Ontario | Vancouver BC | Montreal Quebec | Calgary Alberta
Sports Flooring Experts - Nationwide Service